I had almost forgotten what it is like to be out and about, enjoying the summer days freely and spontaneously and just go with the flow of the day. Finally, the numbers of infections dropped and suddenly it is possible again; being out with friends, practicing yoga together in the park and ultimately even in the studios – what a sweet sensation to reconnect.

In these days I love to have everything with me that allows me to just stay active and around. A sweater for the cooler evenings, some vegan and gluten-free snacks in my bag and my bike lights, in case I decide to savor the night and stay out after sunset. This also means having my yoga mat with me at all times – to teach my classes, that are finally happening again – but also to be able to get in some movement in between meetings or a stretching session after bouldering. Preferably in the shade of a tree with the fresh air brushing my skin :)
With the beautiful Kalaa bags I found the perfect companion for these days. All designs are made especially for an active and urban lifestyle, making space for your yoga mat in your everyday carry on. I was immediately intrigued when they approached me via Instagram, as they are very commited in their sustainable approach to fashion and I always try my best to consume and buy consciously.

The bags are very light and practical and you can notice their high quality not only in the materials but also in the details. I love the simple and muted colors and the clean cuts. All products are not only beautiful but very useful and made for a long lifespan. I got to test the Inki Backpack and the Aalto Sleeve and I have been using them ever since. I love how spacious the expandable Inki Backpack is and how easily I can fit the Aalto Sleeve on my back when cycling around the city on my racing bike.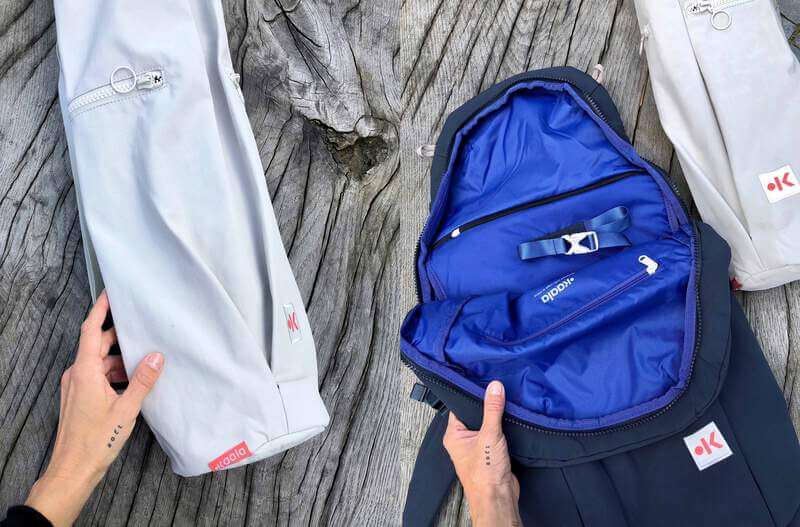 You can read more about the brand and their environmental responsibility on their website: https://kaalayoga.com. I can warmly recommend them from my personal experience.

I hope this was helpful and at least got you motivated to bring your mat with you more often and make yoga and movement and integral part of your daily life.
Werbung | Disclaimer: I had a collaboration with Kalaa on Instagram a couple of months back. I have been using the bags since then and enjoyed them so much that I decide to share my experience with them here, too. This blog article was not part of the collaboration, but I decided freely to personally recommend the products.